West Pennine M

o

t

o

rcycle Training
Instructor Courses
Instructor courses are run approximately once per month, normally the last week of the month.
Courses to become an instructor:-
West Pennine Training has been established for over 20yrs, we have trained a large proportion of the motorcycle instructors working in the North West of England.
We are now expanding our instructor training due to demand to cover both local prospective instructors and national ones through residential courses.
If you have held a full motorcycle licence for over 3yrs and are 21yrs or older you have all the requirements to train up to be an instructor.
Facilities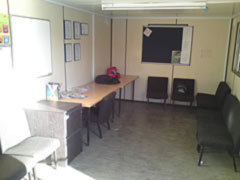 On site we have a purpose laid high grip half acre training ground secure from the general public, heated classroom with coffee/tea, cold drink and snack facilities.

Ladies and gents changing and restrooms, along with drying facilities.
We can provided hire bikes if you don't have your own or want to bring it.
CBT1 Course
The Compulsory Basic Training module-1 course is over 5 days and takes you up to a standard to work as a 'down trained' instructor or to move on to the DSA Cardington assessment (currently free but not for long), if you want to work freelance or run your own school.
All DSA textbooks are provided and course notes are provided.
DAS Course
The Direct Access Scheme course is over a day and post passing the CBT1 assessment prepares you for the DAS assessment (again at Cardington and currently free).
On passing the DAS assessment you can instruct trainees on large capacity bikes prior to test.
Opportunities
Past trainees now work at various schools up and down the country, run their own schools, some have stepped sidways into examining or police work.
All trainees who have completed the course and went on to the Cardington Assessment have passed it.